YuGiOh Lot Super Ultra Secret Ultimate Rare Bulk Exodia HOLOS *READ DESCRIPTION*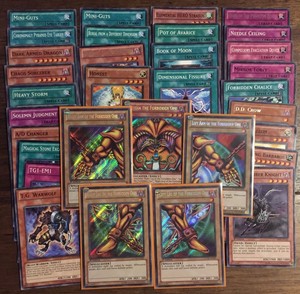 ---
Yu-Gi-Oh Cards!
10 Card Bulk Lot (GURANTEED 5 HOLOS)
Have the chance to win Secret Rare Exodia at a Cheap Price
Up for sale are bulk lots of YGO cards at an absolute bargain of a price!!
Fantastic for Collectors/Players and as gifts!
Each pack will contain;
• 5 of either Super Rare/ Ultra Rare/ Secret Rare/ Gold Rare/ Ultimate Rare/ Ghost Rare/ Platinum Rare
• 15 Common Cards
Cards are from a mixture of old and new sets!
While we try to make sure the packs have no Duplicates, there may be one or two at times.
IS FLOODED WITH CHEAP FAKE YGO CARDS... PLEASE BUY FROM AUSTRALIAN SELLERS WITH GOOD RATINGS... ALL OF OURS ARE 100% GENUINE GUARANTEED! BUY WITH CONFIDENCE!