Yu-Gi-Oh! THE SEAL OF ORICHALCOS LC03-EN001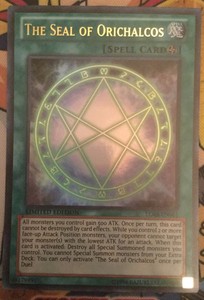 ---
Sie bieten hier auf folgende Karte:

Name: THE SEAL OF ORICHALCOS
Edition: LC03-EN001
Seltenheit: Ultra Rare
Auflage: limitiert
Sprache: Englisch
Zustand: Top Mint
Top Mint = Markellose Karte
Near Mint = Minimale Abnutzungsspuren, z.B. kleine Kratzer
Low Played = Kleine Abnutzungsspuren, z.B. etwas weiße Ränder
Played = Deutliche sichbare Abnutzungsspuren, evtl. Knicke
Heavy Played = Starke Abnutzungsspuren, evtl große Knicke
Poor = Extreme Abnutzspuren, evtl. nicht Tunierlegal
Der Markenname ist Eigentum des Rechteinhabers und wird nur verwendet, da er Bestandteil des Produktes ist und die Qualität kennzeichnet.

Wir unterliegen der Differenzbesteuerung gem. § 25a UStG , deshalb keine Ausweisung der Mwst. auf angeforderten Rechnungen. 
Bei Fragen bitte mailen.