Trading Price Action Ranges Brooks *ONLY* For Phone/Tablets/PC *ONLY*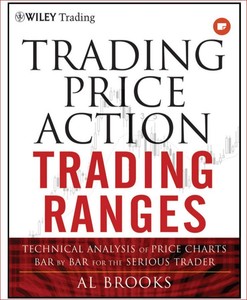 ---
There are 4 books in this series//all 4 are listed in pdf format/ebooks.  Al Brooks has a way of making you understand Reversals, trends, ranges...the market ranges most of the time but when trending he teaches you how to go with the trend.  There is nothing better than catching a reversal so close to support..he teaches you that as well.  The 1st in the series, Reading Price Charts Bar by Bar, touches on all of this and then the last 3 go in to depth on each scenario you may find yourself in.
PLEASE SEND AN EMAIL ADDRESS THAT YOU USE DAILY AT CHECKOUT OR I WILL SEND THE FILE TO YOUR PAYPAL ADDRESS AS IT IS THE ONLY ONE I HAVE ACCESS TO
If you want to buy 5 ebooks for a great price see my listing here http://bulksell..com/ws/ISAPI.dll?SingleList&sellingMode=ReviseItem&lineId=132808984808
Praise for Trading Price Action Trading Ranges
"Al Brooks has written a book every day trader should read. On all levels, he has kept trading simple, straightforward, and approachable. By teaching traders that there are no rules, just guidelines, he has allowed basic common sense to once again rule how real traders should approach the market. This is a must-read for any trader that wants to learn his own path to success."—Noble DraKoln, founder, SpeculatorAcademy.com, and author of Trade Like a Pro and Winning the Trading Game
"A great trader once told me that success was a function of focused energy. This mantra is proven by Al Brooks, who left a thriving ophthalmology practice to become a day trader. Al's intense focus on daily price action has made him a successful trader. A born educator, Al also is generous with his time, providing detailed explanations on how he views daily price action and how other traders can implement his ideas with similar focus and dedication. Al's book is no quick read, but an in-depth road map on how he trades today's volatile markets, complete with detailed strategies, real-life examples, and hard-knocks advice."—Ginger Szala, Publisher and Editorial Director, Futures magazine
Over the course of his career, author Al Brooks, a technical analysis contributor to Futures magazine and an independent trader for twenty-five years, has found a way to capture consistent profits regardless of market direction or economic climate. And now, with his new three-book series—which focuses on how to use price action to trade the markets—Brooks takes you step by step through the entire process.
In order to put his methodology in perspective, Brooks examined an essential array of price action basics and trends in the first book of this series, Trading Price Action TRENDS. Now, in this second book, Trading Price Action TRADING RANGES, he provides important insights on trading ranges, breakouts, order management, and the mathematics of trading.
Page by page, Brooks skillfully addresses how to spot and profit from trading ranges—which most markets are in, most of the time—using the technical analysis of price action. Along the way, he touches on some of the most important aspects of this approach, including trading breakouts, understanding support and resistance, and making the most informed entry and exit decisions possible. Throughout the book, Brooks focuses primarily on 5 minute candle charts—all of which are created with TradeStation—to illustrate basic principles, but also discusses daily and weekly charts. And since he trades more than just E-mini S&P 500 futures, Brooks also details how price action can be used as the basis for trading stocks, forex, Treasury Note futures, and options.ave the other books by Al Brooks in this series listed/Trading Reversals, Trends and Bar by Bar
Worldwide! CHECK YOUR PAYPAL SPAM
You will receive this within 12 hours, usually just hours.  You do not have to wait to read it for a wee or so waiting on shipping
This is not a hard copy!  It is a PDF file that I will email you that is an exact copy of the book, page for page, but you read it on your phone, tablet or PC. 
This is a PDF file that I will email to you
You will need a PDF reader on your device.  You click on the file and download it or just keep it in your email and access it when you wish.  You can save it or read it now
I will send to your PayPal email address unless you let me know a different email address you prefer  Check Spam!
Check my listings! I have tons of other books on trading including The Candlestick Course, Beyond Candlesticks and Japanese Candlestick Charting Techniques..Trading in the Zone, , books on forex, swing trading, day trading, options, candlesticks, technical analysis, psychology of trading and lots of trading classics...just about any type of book on trading just about anything your heart desires to trade!
I have these listed to help folks learn to trade as I have found it is difficult to learn. Beginners will find all they need as well as advanced traders if you skim through my listings.  The stock market or any trading market is a jungle if we do not know the way.  Candlesticks help light the way so we are not in the dark, and knowledge is so important because there are folks out there who know way more than most of us do, but the market is a big huge pot of money at the end of the rainbow!  We just have to know what we are doing, not let ourselves get intimidated, be confident through learning and the knowledge we gain through any source we can get our hands on, accepting of our losses because we all know they will come, be alert and thinking clearly when we sign on whether it be after a brisk walk, a strong cup of coffee or a good night's sleep...and of course a little luck never hurts!
These are not the latest editions and if you are looking for the most recent I encourage you to research the latest edition and search it accordingly
Questions are encouraged
 PayPal only
CHECK SPAM