Tarte Shape Tape Contour Concealer 5 Shades Available 10ml BNIB -UK- Seller.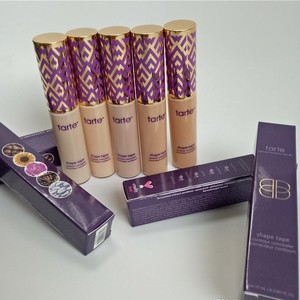 ---
shape tape contour concealerCreamy concealer for radiant coverage and contouring. Product performance: Sculpt and highlight as you mask imperfections with this 2-in-1 full coverage concealer. The hydrating, longwearing formula delivers natural, radiant coverage across all skin types so you can instantly brighten and cover acne, dark circles and redness while softening the look of pores and fine lines.

To Cover & Perfect

1. Dot concealer directly over blemishes, dark circles or other imperfections and use the narrow, tapered side of the sponge to dab and blend.

2. To cover redness or uneven skin tone, apply concealer directly onto skin and blend using the larger, domed end of the sponge.

3. To offset the look of dark circles, trace concealer onto undereye area in a "triangle of light formation" and blend using the narrow side of the sponge.

To Contour & Highlight

1. Trace concealer in light, thin lines directly onto areas you want to highlight and contour, such as the cheekbones, forehead, chin and nose.

2. Use the narrow, pointed side of sponge to blend formula into skin in the direction of the lines you traced. The larger, domed side can be used to soften any harsh lines.

3. Wear concealer 1-2 shades darker for creamy contouring and 1-2 shade lighter as a luminous highlighter.