BMW ENET Diagnostic & Coding Cable Tool ✧ ALL BMW F-Series ✧ Airbag Fault Reset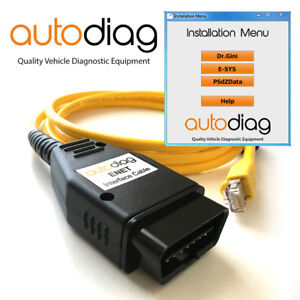 ---
BMW ENET OBD2 Diagnostic & Coding Cable

for use with E-SYS, ISTA, Dr.Gini... on ALL BMW & Mini F-Series Cars 2009-2017...

This cable and software package is all you need to communicate to your car using your own laptop. Includes Professional Dealer Software used by BMW Dealers themselves.

Saving you from paying the dealer expensive diagnostic and coding charges, your first diagnostic job will easily cover the cost of this kit!

  Only ENET cable kit on that includes DIAGNOSTIC software!Others only include ESYS which is only for coding! It will not allow you to read or clear faults!

  Professional High Quality Cable. Avoid cheap Chinese poorly soldered cables...

BMW ENET Diagnostic & Coding Cable 

Professional BMW ENET OBD2 Diagnostic & Coding Cable made using pure copper Cat6 cables.

PROPERLY Grounded & Shielded RJ45 Connectors, Metal Film Resistors and all using Lead-Free Solder.

Length: 2m

This is cable works on all F Series BMW cars from 2009 until now.

This package includes an Easy Set-up DVD therefore no need to download anything and no hassle installing!

COMPATIBLE WITH ALL F Series BMW and MINI cars years 2009-2017:1 Series - F20 F212 Series - F22 F45 F463 Series - F30 F314 Series - F32 F33 F366 Series - F12 F13 F067 Series - F01 F02 F03X Series - F15 F85 F16 F26 F25Mini - F55 F56

Your car not on the list?

For E-Series 2000-2010 click ->here

For older E-Series 07/1997-2010 click -> here

Or for Complete E&F Series Pack click -> here

or check our other listings.

Installation Menu

Avoid spending hours or even days trying to set up the software to work,

We have created an easy-to-use Installation Menu for Hassle-Free Installation of Software:

  

Software

  Installation Program - 1-click menu driven installation program created by us to allow easy hassle-free installation of the software.

  Dr.  Gini - Easy-to-use program used for diagnosing all BMW F-Series cars. (For diagnosing F-Series & E-Series cars)

  E-SYS - Lightweight program used for coding all BMW F-Series cars. (For coding F-Series cars)

  Latest PSdZDATA - Full and Lite.

The software and files have been freely sourced online and combined for easy installation and use.These programs are used by many BMW professionals and even BMW dealers themselves.

Functions

This is only some functions out of many:  Read and Erase Fault Codes from every module in your car  Read and Reset Airbag Light Faults  Code new or existing Modules  Code ECU Functions such as Fold-in mirrors, Daytime Running Lights and so on...  Code Key Memory  Code new retrofitted parts  New Battery Registration  Service Interval Reset  Live Data view  Adaptive Headlight Alignment  Steering Wheel Angle Sensor Reset  Electrical Wiring Diagrams  Fault Elimination Procedures  Repair Manualsand much much more...

Screenshots

Here are screenshots of different software being used with our cable:

 

Customer Feedback

Here is what our customers had to say about this product and our service:

Postage & Terms

You will receive:

1 x BMW ENET OBD2 Diagnostic & Coding Cable.1 x DVD with Installation Menu and Software.

Your items will be dispatched on the Same Day using Royal Mail 1st Class Signed-For Service and will usually be delivered next day.